CNC Metal wire mesh weaving machines to INDIA
Views: 36 Author: Site Editor Publish Time: 2022-02-20 Origin: Site Inquire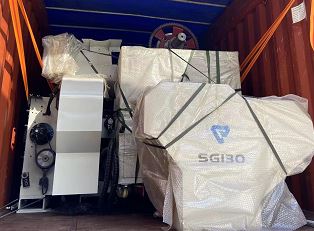 LANYING is specialized in CNC metal wire mesh weaving machines manufacturing. Our have different ranges weaving looms that are suitable for different wire mesh weaving. The strengthen type SG130 weaving looms is suitable for:
Wire diameter: 0.05~0.4mm
Weaving density: plain weave square hole 20-260 mesh/inch, twill weave up to 400 mesh/inc.
Speed: 60~100rpm or 80~120RPM (actual speed depends on weaving specs and width)
Weaving width: 1300mm ( special width on request)
Weft insertion: CNC single-way rapier
Take-up: 3-roller, CNC
Let-off : CNC with precise tension control unit
Heald frames: 4 pcs
Weave patterns: plain, twill, dutch,etc..
Wire material: stainless steel wire mesh, nickel wire mesh, patinum wire mesh, bronze wire mesh,etc...
SG130S can weave normal wire mesh such as 50/0.19mm, it also can weave strong wire mesh such as 60/0.19mm
Plain dutch weave 24/110, et..
More information, please do not hesitate to contact us.